Space Fury (1999)
a.k.a. - In the Dead of Space (USA)
Michael Paré stars in an interesting space station bound sci-fi thriller from director Eli Necakov. Prism Leisure UK R0 DVD.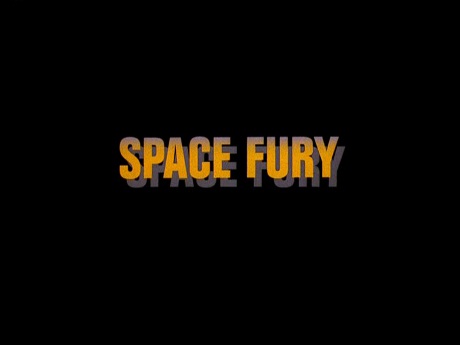 The Film
A shuttle arrives at a space station in orbit above Earth, on board are American astronaut Konrad (Michael Paré) and American star golfer Max who is making a sponsored, promotional trip into space. Rene and Yuri aboard the station try and guide the shuttle in for docking, but there is an error and the shuttle damages part of the station, this means that Konrad's experiementational modules have to be closed off and he becomes annoyed that he cannot carry out his tests. Meanwhile, the Moscow police discover a cosmonaut insignia in the hands of a murdered Moscow prostitute and evidence from a defeated terrorist cell that they are planning to carry out an attack by de-orbiting the space station...
From Australian writer Vincent Monton, the script for Space Fury is nothing if not abitious. Many straight to video sci-fi efforts labour to pad out their story to fit a regulatory ninety minute feature runtime but instead here we get almost too much going on - we get a murdered prostitute, a military assault on a seperatist hideout, their terrorist plot, tension between Konrad and Max, tension between Konrad and Yur, tension between space command and Max's promoter, a damaged space station and other strands that all seem to interlock, while at the same time often emerging as being quite inconsequential and the ultimate denoument comes from a different angle entirely.
As a result Space Fury could never be called slow paced, there is always a lot going on and it is definitely hard to predict what direction the storyline is going to take as it builds to an appropriately fitting climax. With only a cast of four aboard the station itself, the setting quickly becomes claustrophobic and there is a nice European surrealist edge, particularly in the strange captured images on the terrorist computer system that is being slowly decoded and the odd mix of characters at the Russian space command.
Although shot in a pretty straight forward manner, director Eli Necakov does some good work with the production's low budget. While the intermittent exteriors have some dated CGI, the interiors look plausible, giving the station a variety of rooms while maintaining the claustrophobic feel - there is no attempt to simulate the weightlessness in the station. An interesting selection of music works well in the film, dark tracks with some choral themes emphasising the horror movie style stalking in some of the later scenes with a conventional sci-fi synthesised score early on.
Michael Paré is impressive as Konrad despite a quite challenging part. Well built Tony Curtis Blondell never gets much to do and would seem perhaps better cast as a boxer than a pro-golfer. Most of the remaining cast are pretty much unknown - Lisa Bingley and Nenad Petrovic who play Rene and Yuri surprisingly have almost no other credits to their names - but performances are generally good. Canadian heavyweight boxing champion George Chuvalo has a brief part as a military commander.
Rather than slow paced and padded like many similar genre efforts, Space Fury seems somewhat overwritten with the screenwriter trying to add in a lot of ideas and storylines that ultimately come off as irrelevant to the main plot, that would have the potential to make for a perfectly interesting film on its own. Direction is good and the acting is generally fine. An interesting film for thriller fans.
In Brief
| | |
| --- | --- |
| Anyone famous in it? | Michael Paré - had a lead role in Roland Emmerich's early sci-fi Moon 44 (1990) |
| Directed by anyone interesting? | Eli Necakov - a little known film maker whose only other directoral credit is on Cybermaster (1999) but who is also involved in production, working on the Canadian horror film Autumn (2009) |
| Any gore or violence ? | Some blood. |
| Any sex or nudity? | A very brief topless shot. |
| Who is it for? | Of interest to thriller fans |
The DVD
Visuals
Original aspect ratio - 1.33:1 academy. Colour
Picture quality is good with plenty of detail and clear colours.
Shot for video premiere so the academy ratio is correct.
Audio
English stereo - sounds fine.
Subtitles
None
Extras
Region
Region 0 (ALL) - PAL
Other regions?
Available in the US from New Horizons under the In the Dead of Space title.
Cuts?
Believed to be fully uncut. Titles and credits are in English.
Summary
An interesting film and fair production but rather overwritten leaving many strands feels unncessary.

Links
All text in this review written by Timothy Young - 11th December 2014.
Text from this review not to be used without authorization.
Please contact: